Secondary Research:
In order to answer my research question, I conducted secondary research from sources including 
Pew Research
,
National Public Radio
, and through the religious texts themselves: the Torah, the Qur'an and the Bible. 
I found various examples of hijab styling, each with loose ties to various countries and regions. While I could find basic ties between hijab styles and countries, no recent data was available to show what style of hijab was worn in various countries. The key visual angle I had hoped for my posters (a map of hijab styling around the world) was simply impossible, due to lack of data. 
Similarly, it became quickly evident that due to various cultural obstacles, not much cohesive data exists on how Muslim women around the world decide when, how, or why to veil. Instead of speculating on why these data are difficult to find,
I tried to focus on the information I did have: photographs and tutorials of hijab styles, personal accounts of the choice to veil, or not, and most importantly, lists of political restrictions/impositions of modest dress around the world.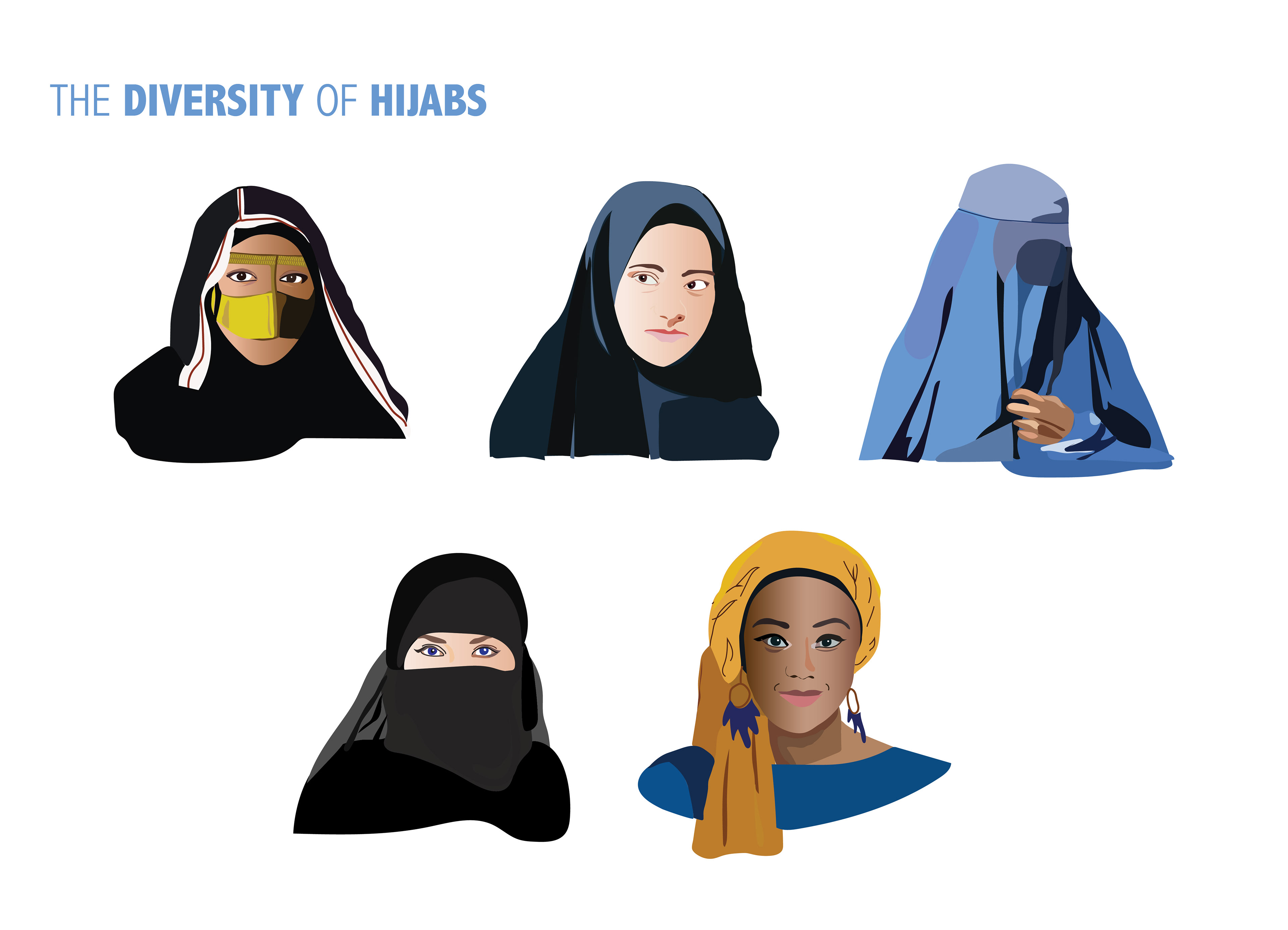 Pivoting the Research Question
As noted from my secondary research, I was struggling to find data that directly answered my initial research question. Simultaneously, I was starting research for my second poster. 
While I considered dedicating the second poster to male Islamic dress codes, I quickly realized that men's Islamic dress is more socially dictated than pulled directly from religious texts. 
Instead, I researched women's dress codes in the other Abrahamic religions: Judaism and Christianity. I was able to find interpretations of women's modest dress codes for each of the Abrahamic texts (the Torah, the Bible and the Quran, the Based on this research, I pivoted my research question to incorporate the new angle of women's Abrahamic religious dress as a whole. 

Continuing to Refine Graphics:
Each week for class critique, I refined my visual language. In this time of prototyping, I added a grid pattern, tried new illustration styles, included large graphs, and changed my quotations to a larger format. However, there was still much more updating to do.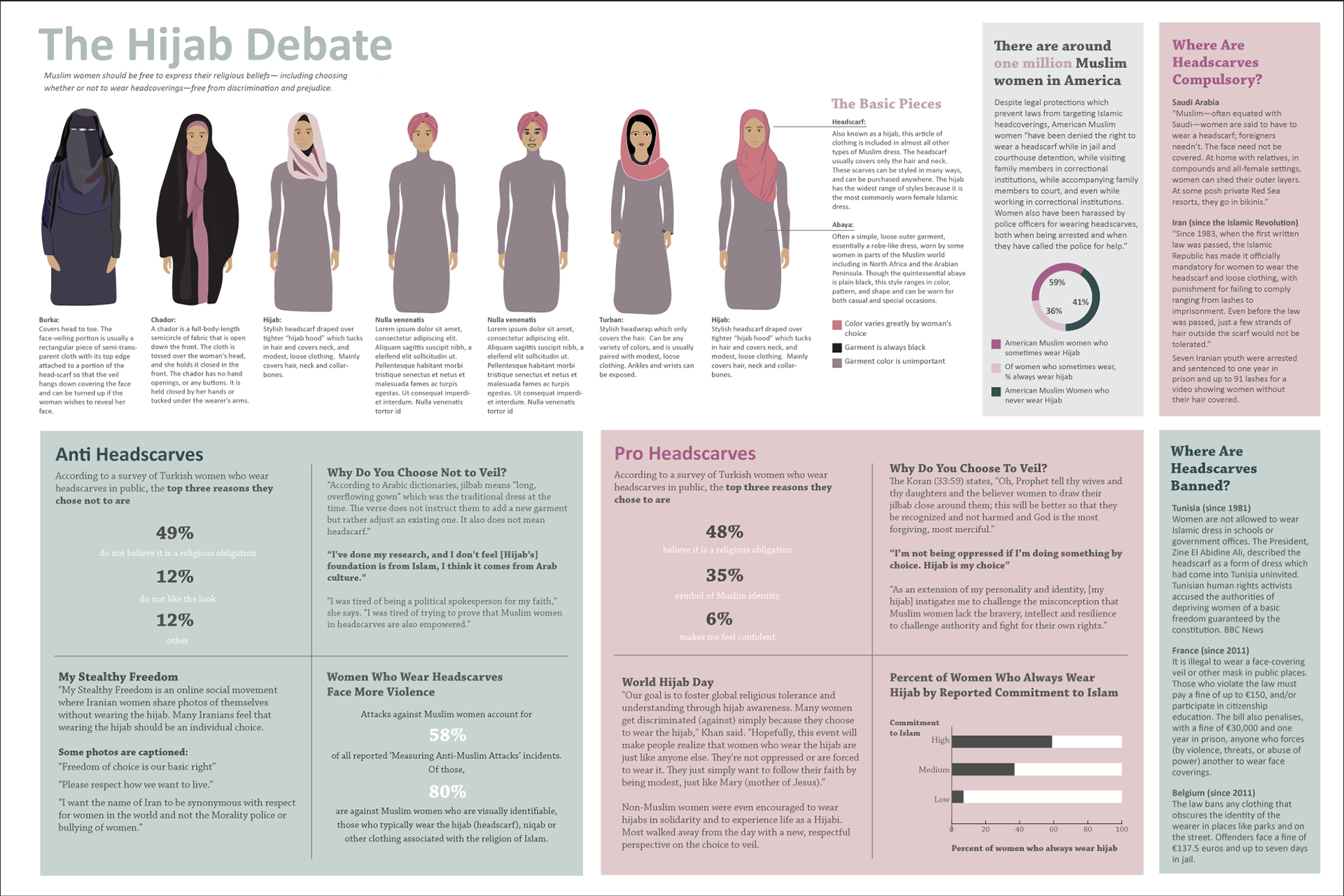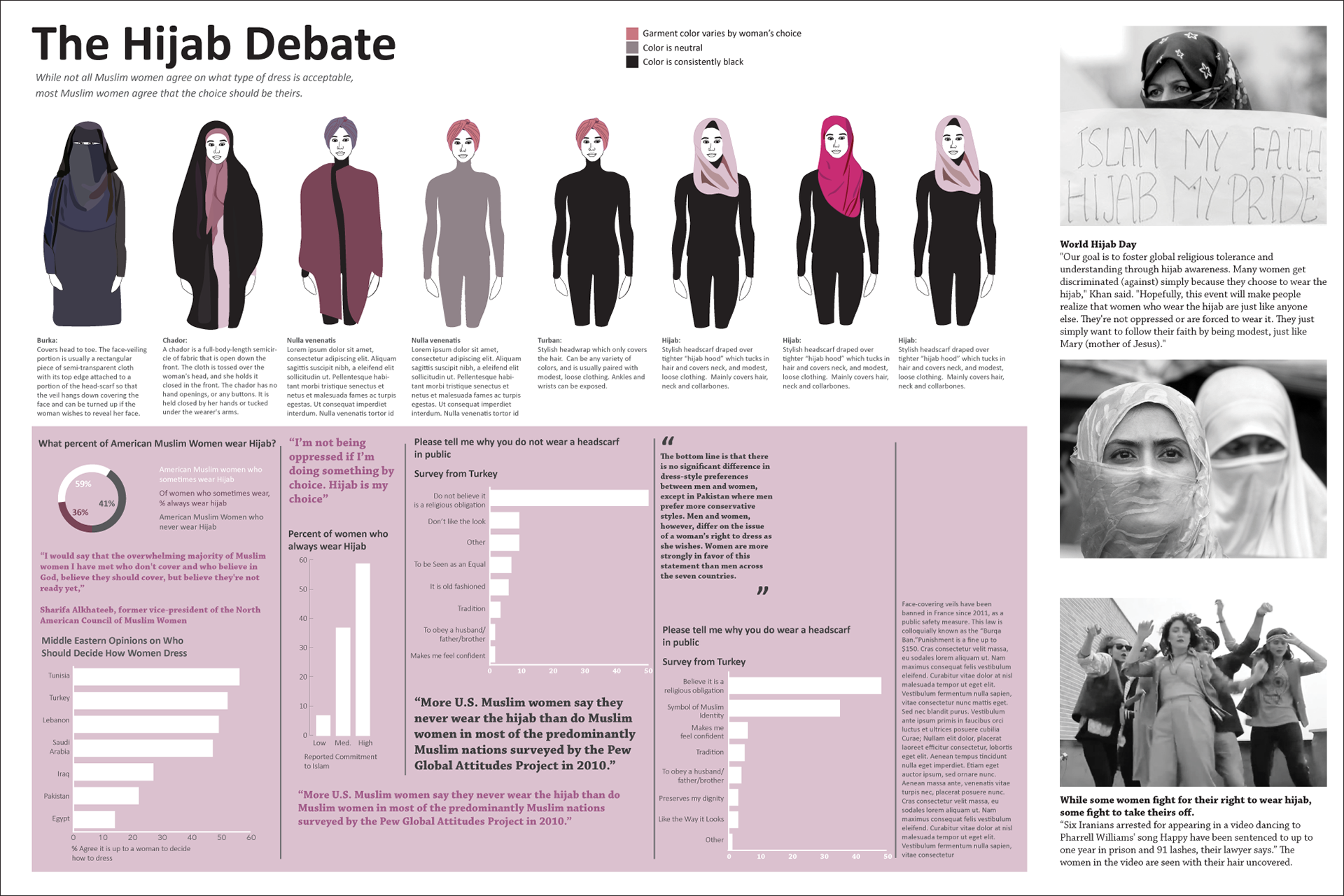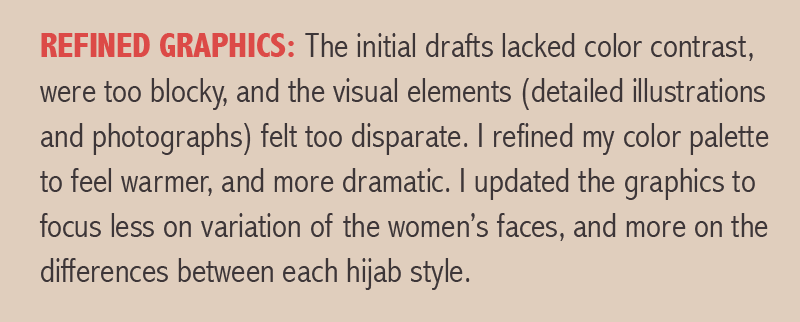 Final Submission:
Two large scale (18x27"), printed, infographic posters. The final design PDFs can be
downloaded here.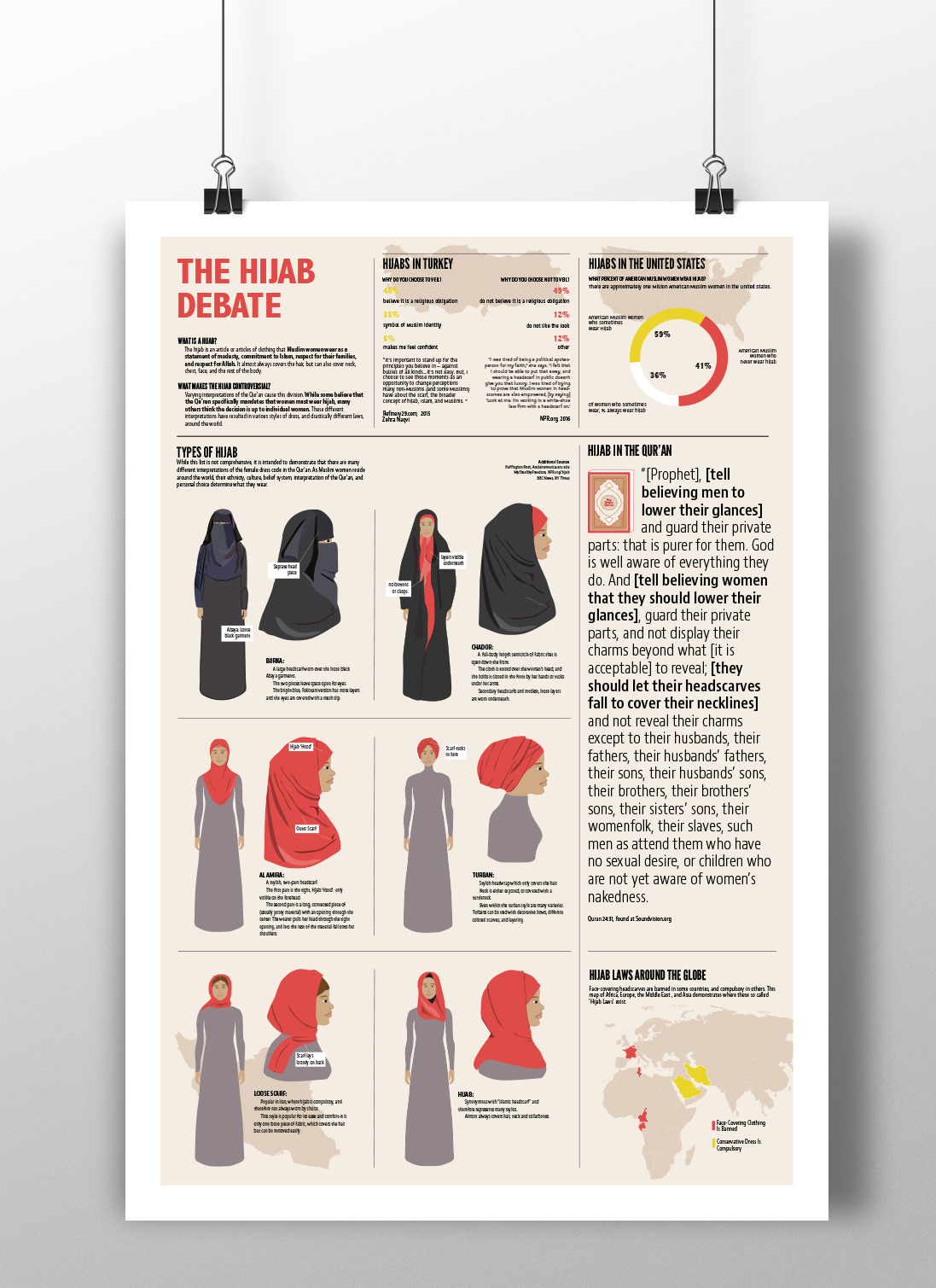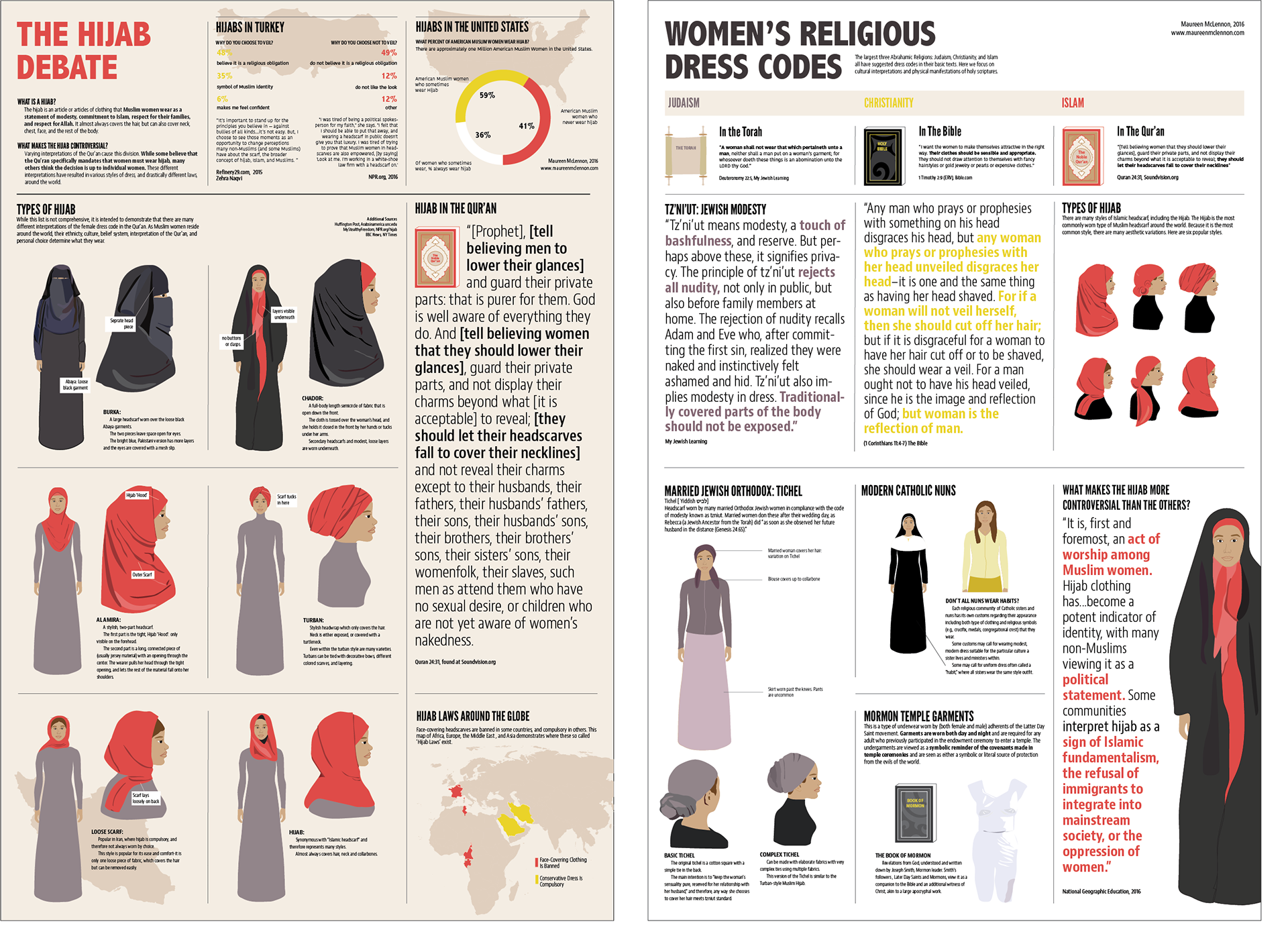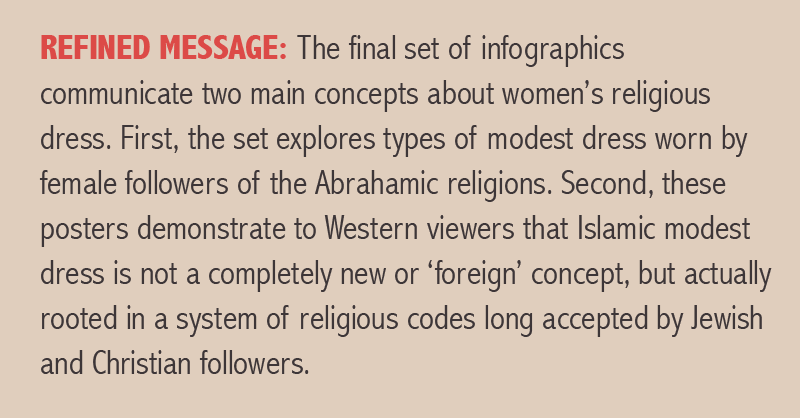 Final Takeaways:

This project solidified for me that
design research is my passion.
I loved using both my design and anthropology skill sets for the same project. 
In every project since, I have worked to incorporate research practices and analysis to produce works that are reputable. As exemplified by this project, one of my strengths as a designer is my ability to create an initial research outline, and be willing to change the course of my research as needed.