Live Site
With my team at Community Attributes Inc, I wire framed, designed, and helped build these dashboards over the course of six months. My contributions included creating wire frames, brainstorming site identity concept, designing a set of custom icons, designing full-color mock ups, presenting concept to client, and translating designs into Tableau Desktop. The site is hosted on the
Construction Center of Excellence website.
 (April 2018).
Wire framed 4 dashboards and landing page, designed full mock-ups and, and helped build dashboards in Tableau over the course of six months. I created wire frames, brainstormed site identity concept, designed a set of custom icons & full-color mock ups, presented concept to client, incorporated client edits, and translated complex designs into data visualization software, Tableau. Worked with economists, data analysts and data developers.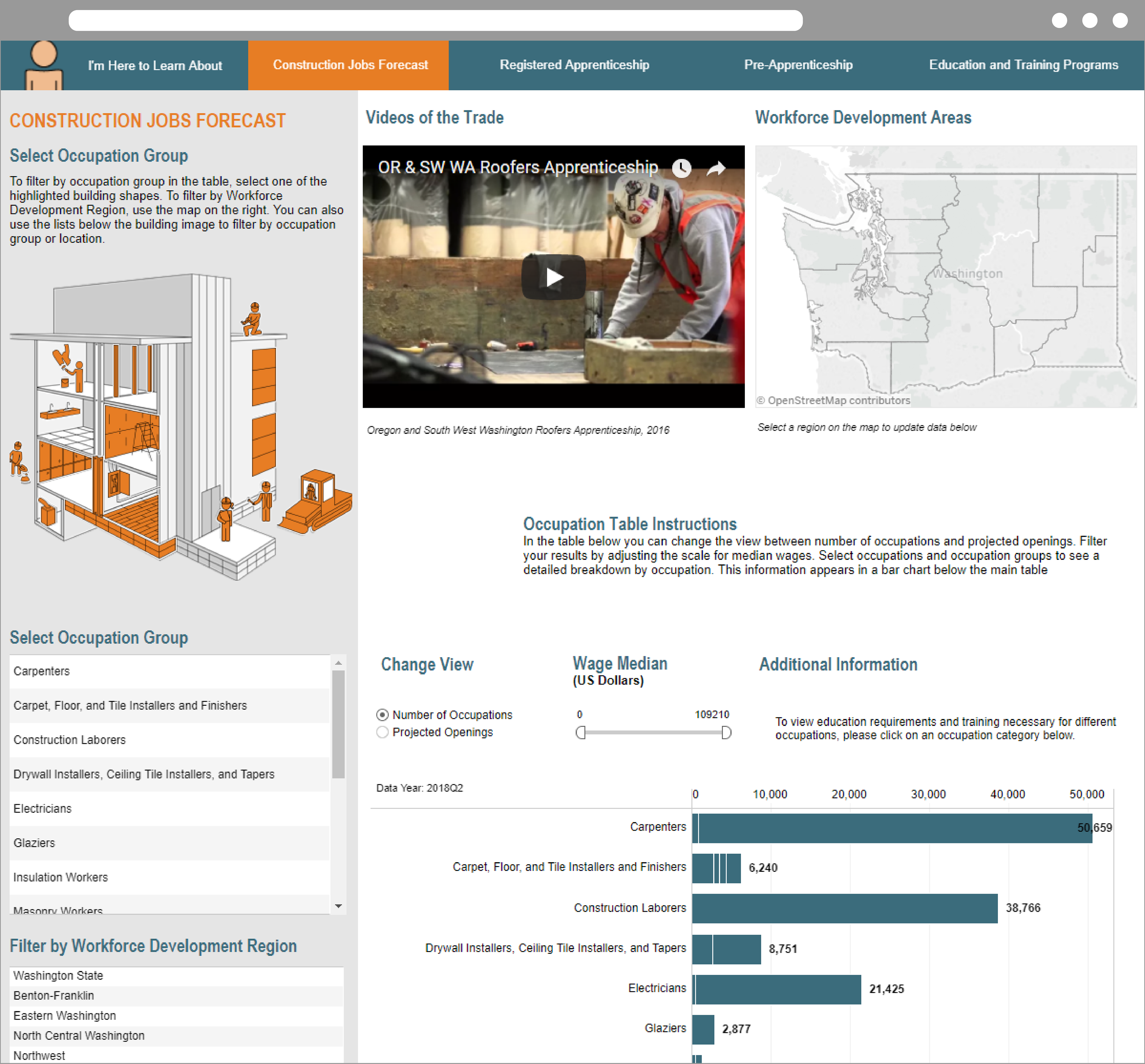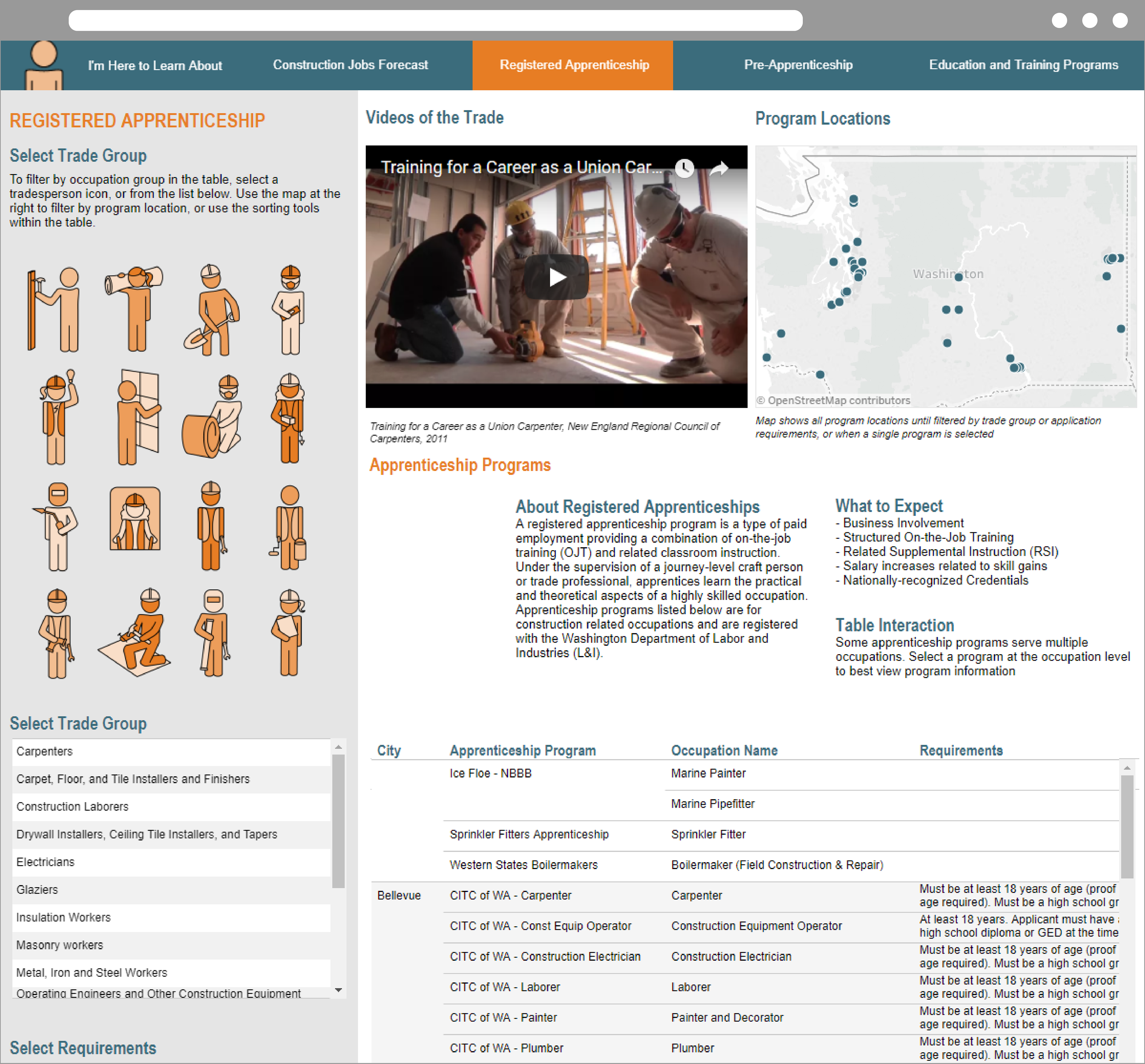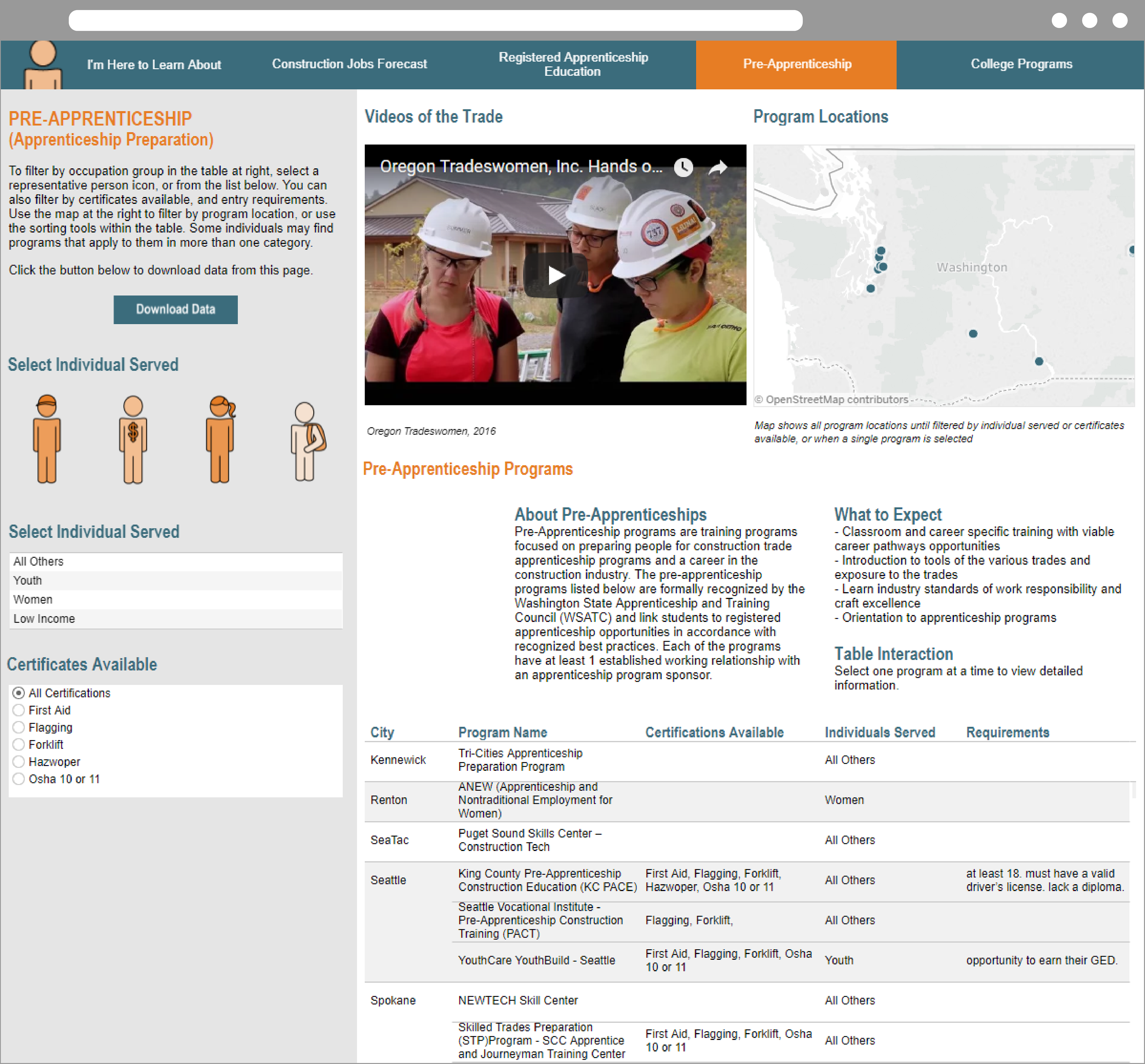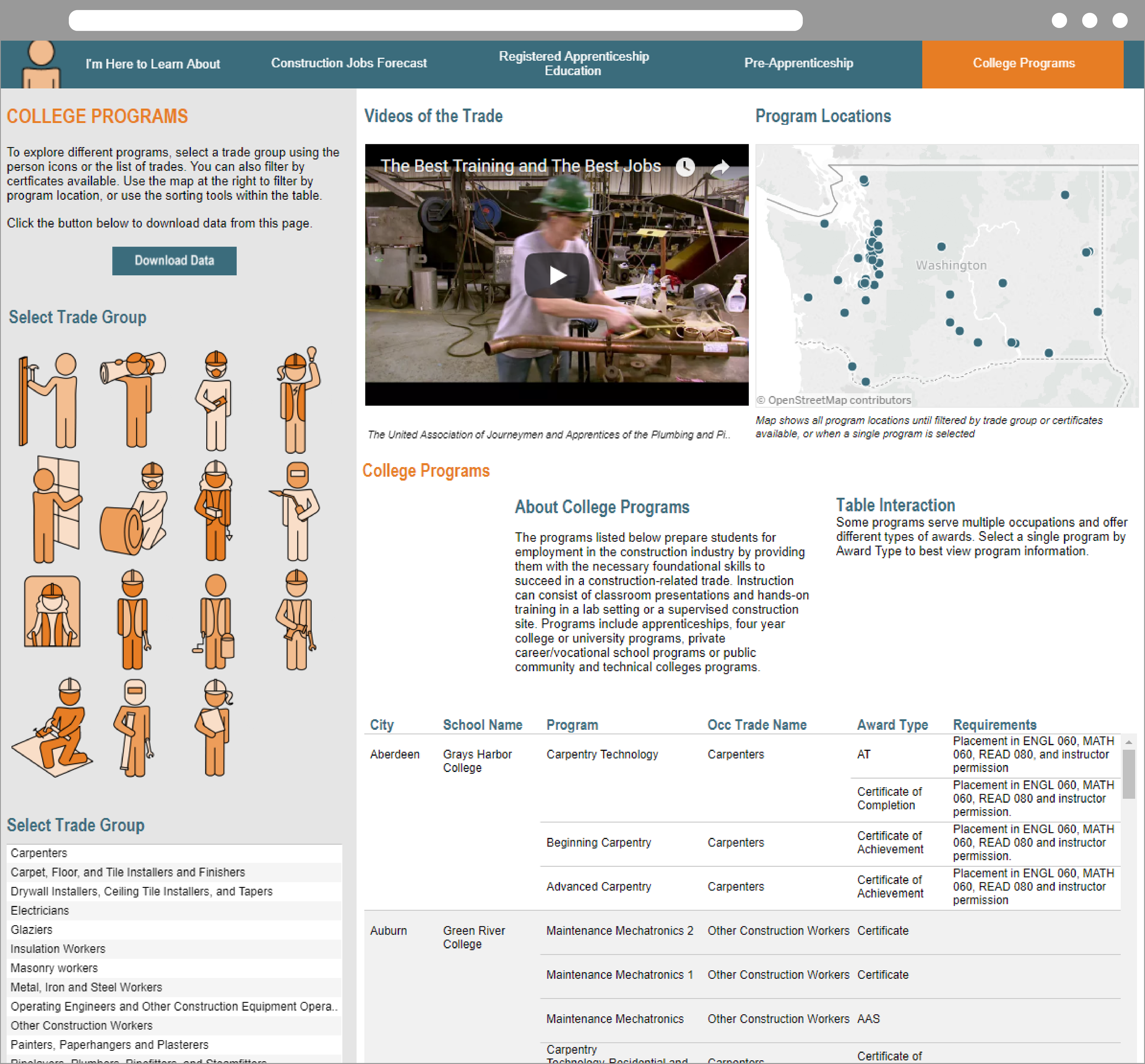 Translating Designs to Tableau
A unique challenge of this project was that I directly translated the designs into Tableau, along with a colleague who is experienced with Tableau. Before this project, I had no experience with Tableau. Everything that I accomplished in this project was learned through trial, error, iteration with my colleagues, and many hours of Tableau tutorials.
Creating the Tableau Training Manual
One of the requirements of the project was to build the site in Tableau. In addition, we were asked to create a tutorial manual for the client that explained how we built the site & how to update it. In order to explain the complex nature of the site we built, I created fifteen diagrams that explain how the dashboards were built, how to use Tableau, and explain the features of the site. The image below shows the first the diagram for each dashboard.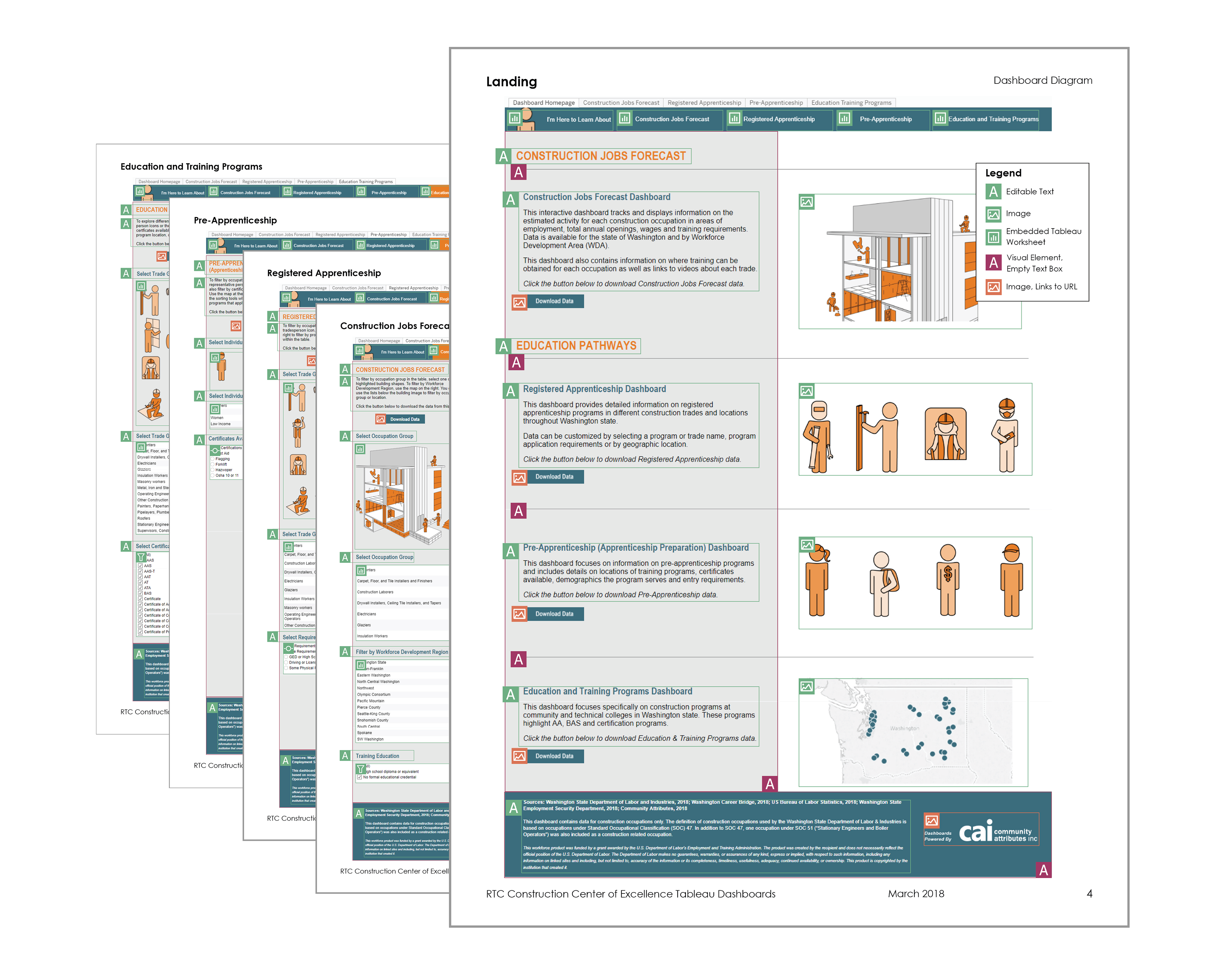 Custom Icon Illustration
The Apprenticeship and College Programs dashboards feature data for sixteen occupations within Construction (as determined by Washington state Labor & Industries). For these dashboards, we decided to create a custom icon for each occupation. I designed the sixteen occupation icons, each showing a worker participating in a task indicative of their work. Icons include feminine characteristics, and the varied colors of the icons demonstrate the need for a diverse workforce in construction. For the Pre-Apprenticeship (apprenticeship preparation) dashboard, I designed the five Individuals Served icons, to represent the main groups of individuals served by apprenticeship preparation programs.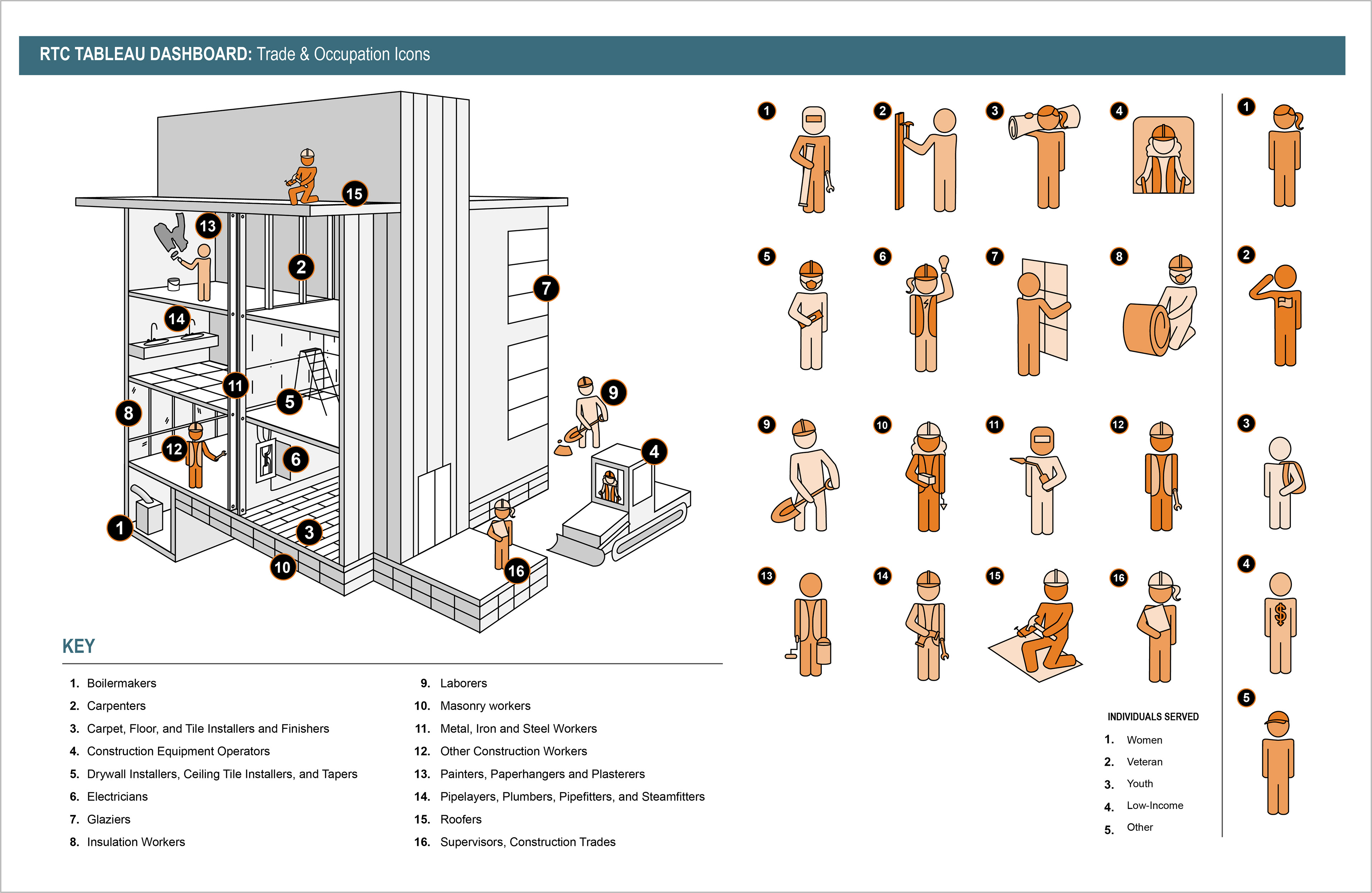 Construction Forecast Dashboard Building Design
Our client envisioned a building as a selection tool in these dashboards, and boy did we make it happen. Each of the orange highlighted shapes in the building below represent an occupation within the construction industry, which can be used to filter by occupation within the live site. There is overlap with the custom worker icon shapes from the other dashboards. I drew the overall shape, and all of the occupation icons, by hand and in Adobe Illustrator. On final delivery of the site, the client was overjoyed that we were able to deliver the building concept she had always dreamed of. I must say, I feel the same about the opportunity to design it.